JazzLive Homepage JazzLive @Home JazzLive Series Special Events Resident MC Bob Studebaker Email Sign Up
JazzLive Legacy Award
The JazzLive Legacy Award is given to a regional jazz artist who represents the community of professional players and singers who contribute to the jazz scene in Pittsburgh. The BNY Mellon Presents JazzLive series has allowed the Pittsburgh Cultural Trust to showcase hundreds of these regional performers in the heart of the Cultural District since 2004. This award gives the Pittsburgh Cultural Trust the opportunity to recognize the jazz artists whose legacy and significance in this industry will never be forgotten.
2021 Recipient - Dr. Harry Clark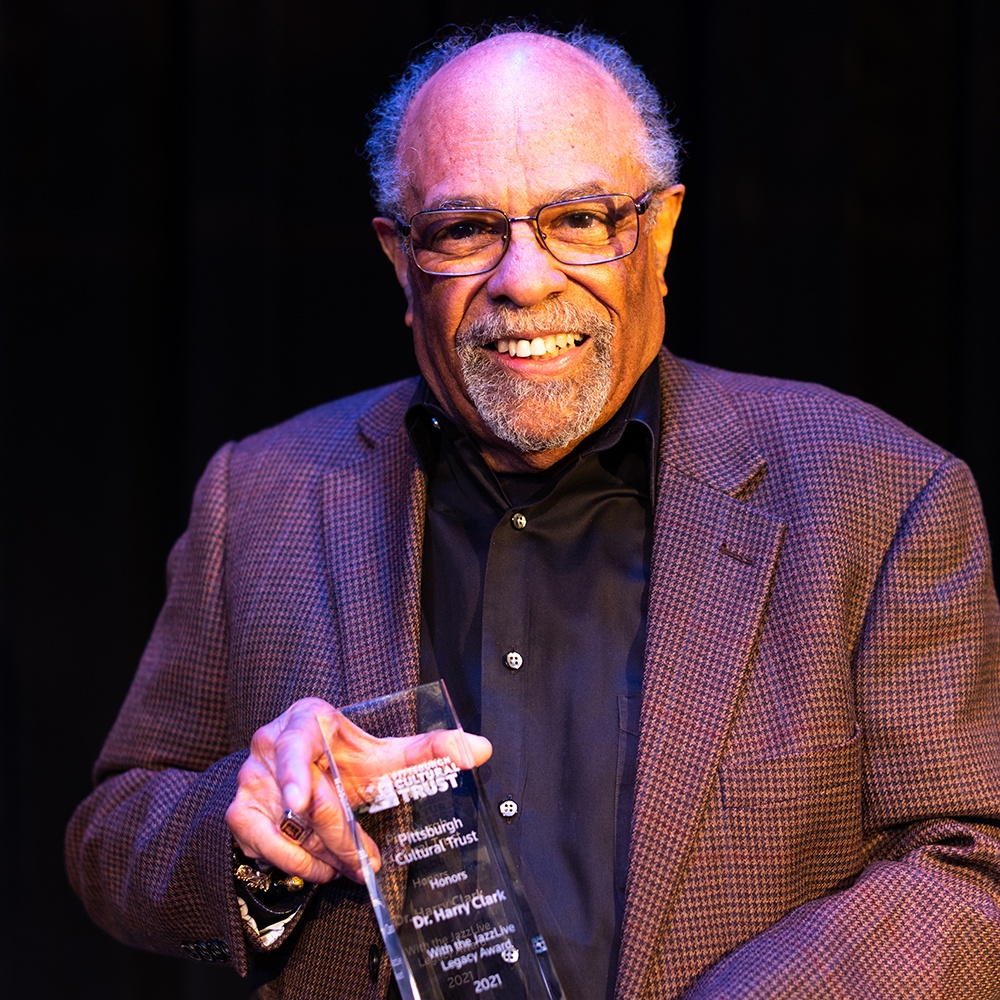 Dr. Harry Clark following the award presentation. Photo by Joey Kennedy.
The 2021 JazzLive Legacy Award honoring Dr. Clark for his many years of outstanding contributions to jazz in Pittsburgh took place on Tuesday, October 26, 2021 at the Greer Cabaret Theater during the Kurt Elling concert.
Dr. Harry Clark retired from Pittsburgh Public Schools after 30 years of service, including serving as the founding principal of Pittsburgh Creative and Performing Arts High School (CAPA) – the first public arts high school in Western Pennsylvania. Through this work, he influenced hundreds of musicians who now have their own careers and contribute to Pittsburgh's reputation as a city where jazz thrives. Dr. Clark has consulted for schools across the country to help initiate new arts programs, as well as for the Kennedy Center for the Performing Arts, U.S. Department of Education's Special Projects Committee, and American Council for the Arts. Locally, he serves on the boards of directors at Bridgeway Capital and Kente Arts Alliance, advises the African American Jazz Preservation Society of Pittsburgh, and has been a member of the University of Pittsburgh's Jazz Seminar Committee for more than 30 years.
Thanks to our friend Scott Hanley of WZUM, you can watch Dr. Clark's award presentation below.
2019 Recipient - Joe Negri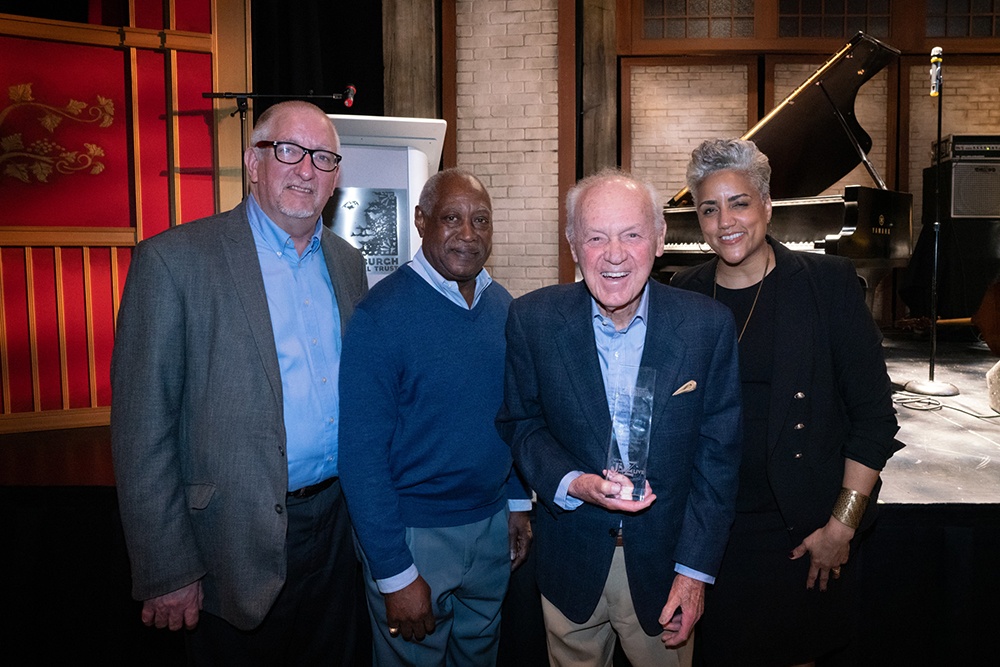 (From left to right) Max Leake, Roger Humphries, Joe Negri and Terri Bell following the presentation of Negri's award. Leake is the pianist in Roger's band and presented the award to Negri. Photo by Joey Kennedy.
Pittsburgh jazz musician and icon, Joe Negri, was awarded the 2019 JazzLive Legacy Award at the Ron Carter Quartet concert, on April 23, 2019 at the Greer Cabaret Theater.
"The Pittsburgh Cultural Trust is grateful to Mr. Negri for his many contributions as a musician, an inspirational leader in our community, as well as to jazz artists throughout Pittsburgh and beyond," shares Terri Bell, Vice President of Strategic Partnerships and Community Engagement-Pittsburgh Cultural Trust. "It is our honor to recognize Mr. Negri as this year's JazzLive Legacy Award honoree, and we look forward to enjoying his artistry for many years to come!"
2018 Recipient - Roger Humphries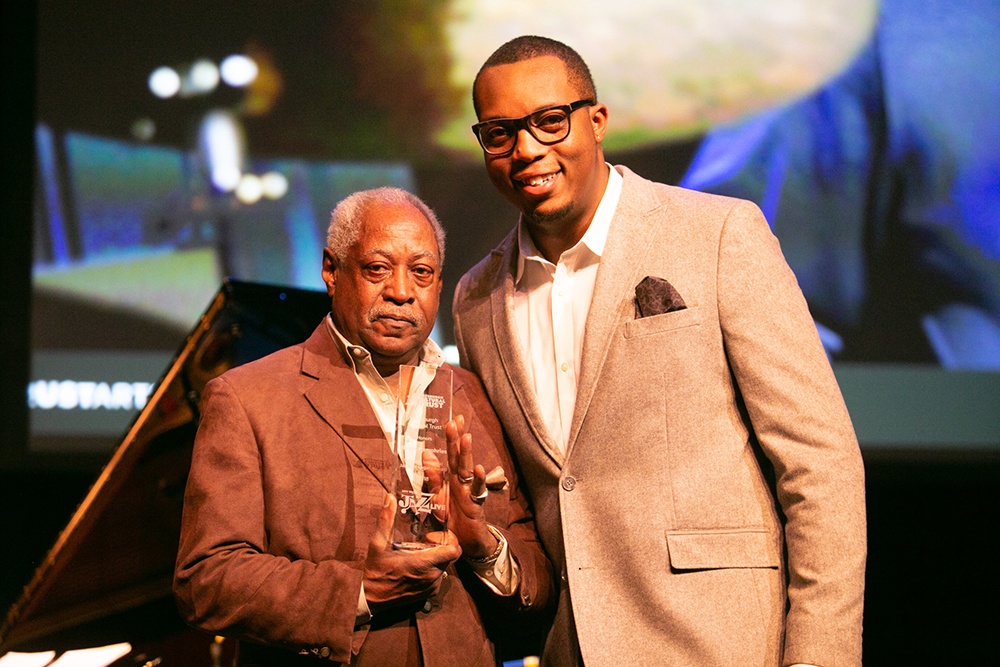 (From left to right) Roger Humphries and Jevon Rushton. Photo by Joey Kennedy.
Born in the late 1940s, Roger was 3-1/2 year old when his family first discovered his talent for playing drums. He began playing professionally at the age of fourteen, and he led his own group at Carnegie Music Hall when just sixteen. Roger grew up in a time when the jazz scene in Pittsburgh attracted talent from all over the world. Throughout his career Roger has performed at Carnegie Music Hall, the Village Gate and Apollo Theater in New York; Shelly Manne's Manhole in Los Angeles; the Jazz Workshop in Boston; Ronnie Scott's in London and many other venues all over the world. He's performed with the likes of Ray Charles, Horace Silver, Dizzy Gillespie, Woody Shaw, Nancy Wilson, Stanley Turrentine, Freddie Hubbard and many more. Roger has served on the faculty of the Pittsburgh High School for the Creative and Performing Arts (CAPA). He has also taught at the University of Pittsburgh and Slippery Rock University. He has influenced the careers of numerous students and musicians. Roger continues to perform regularly in Pittsburgh and has been a JazzLive Tuesday fan favorite since the series began.
Roger Humphries, was awarded the inaugural JazzLive Legacy Award at the world premiere of "An Evening with the Musical Compositions of Mister Rogers," one of the Pittsburgh Cultural Trust's Jazz Appreciation Month concerts, on April 17, 2018.