Volunteering
Great Performances. Great People. Give the gift of time!
Our volunteers play an important role at The Pittsburgh Cultural Trust by providing support and leadership for our programs, projects and activities. Comprised of people of all ages and backgrounds, our corps of volunteers works to strengthen community awareness and public appreciation for the Trust, contribute to its financial strength, and provide vital support services to its staff.
How to Apply
Thank you for your interest in supporting the Pittsburgh Cultural Trust. To complete your Volunteer Application Form online, you will be directed to a new site powered by Better Impact, where you can create or log into an existing account.
Volunteer Mission Statement
Our priority is to help others enjoy the beautiful gift of art by creating a warm atmosphere and unforgettable experiences that excite and attract diverse audiences again and again to our venues and festivals. The Cultural Trust's community of volunteers supports and cultivates an environment where all feel welcome to enjoy performing, visual, and public art.
Volunteer Vision Statement
We will provide a professional, first in-class guest experience for every visitor. Our volunteers and the outstanding service they provide to the community will be one of the many reasons people continue to frequent Pittsburgh's Cultural District.
Through a more inclusive group of volunteers, we will strive to connect with all persons by creating a place where both volunteers and guests feel comfortable, accepted, and valued. We aspire to provide all with a fulfilling and gratifying experience in the arts.
Our volunteers will promote a strong sense of pride, community awareness, and public appreciation for the Cultural Trust by creating and enhancing relationships both within the Cultural District and beyond.
Volunteer Values
We believe...
the arts should be accessible and enjoyable for all.
volunteers are an important reflection of diversity within our Cultural Trust family, where all are welcome.
in excellence and the commitment to high standards for superior guest service.
in respect, empathy, dignity, and trust in our interactions with all.
that through an appreciation of the arts and culture, people have the power to enrich their lives and improve the quality of life for others within the community.
Opportunities
Volunteers may participate in a broad spectrum of programs and activities depending on their interests and flexible options accommodate each volunteer's personal schedule. Daytime or evening, weekday, or weekend. There's often an activity to fit any schedule.
Volunteers may participate in activities in the following areas:
Performance Support
Festival Support
Children's Activities Support
Gallery Attendant Program
Docent Program
Programmatic-specific Support, including assisting with various departmental needs
Giving is Rewarding. Becoming a volunteer makes you a part of theTrust family. As you share your talents and interests with fellow volunteers, you also learn more about the inner workings of the theater, its programs, and its role in the community.
Some of the other benefits include tickets to performances and an invitation to volunteer recognition celebrations.
Latest Good News
Check out some recent highlights from the Volunteer Services newsletter — Good News — which shares highlights and stories from throughout the Trust's volunteer family.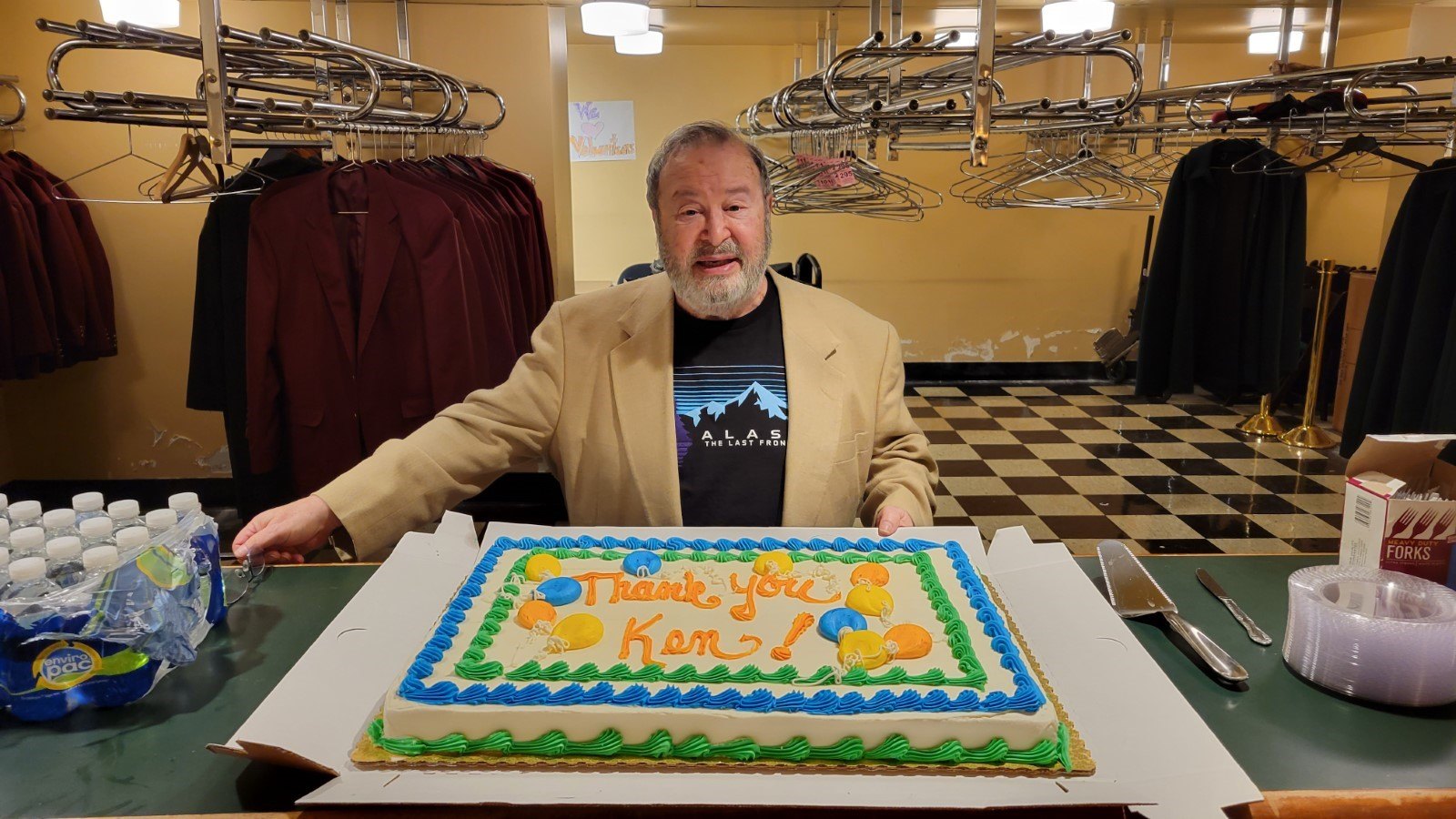 Our beloved House Manager Ken Madonia announced that he is retiring later this month. Ken has been one of the steadiest parts of our Front of House team for the past 25 years and has served in nearly every role we've had on the Front of House staff during his tenure here! His professionalism, poise, humor, and unwavering commitment to our guests will truly be missed.
Other Good News
March 19 – SIX – Adam Davy
On the subject of good news, I meant to shout out two of our newest ushers: Mark and Debbie. I worked their very first show with them (a performance of Six - after which I promptly forgot their names so I couldn't put in a good word right away), and they absolutely killed it ... Major kudos to both of them!
April 28 – The Lightning Thief – Ryl
Shout out to Carol, Orycia and Kathy for bringing snacks for everyone to share. Additional shout out to Kathy for doing such a great job with line management in the lobby for this general admission show.
May 4 – Dear Evan Hansen – Wendy
I enjoyed helping brand new usher, Julie, dive into the volunteer experience. We had a nice chat before seating began, she was a quick study seating patrons. We even broke her in on intermission restroom duty! I look forward to working with Julie again soon.
---
Questions? Please email volunteer@trustarts.org or contact us by mail at:
Benedum Center
Attn: Volunteer Office
719 Liberty Avenue
Pittsburgh, PA 15222