Things To Do in Downtown Pittsburgh
Thanks to recent accolades from travel and tourism publications, people across the globe are being let in on a secret that Pittsburghers have known for quite some time: our city is mighty, beautiful, and well worth visiting.
The Cultural District is the heart of it all. Within these 14-square blocks, you'll find everything from historic theaters and contemporary art galleries to trendy restaurants and independent retail stores. So whether you're visiting the Steel City for the first time or a lifetime resident looking to switch up your routine, there's always something new to discover.
What are you waiting for? Come on down.
Visual Arts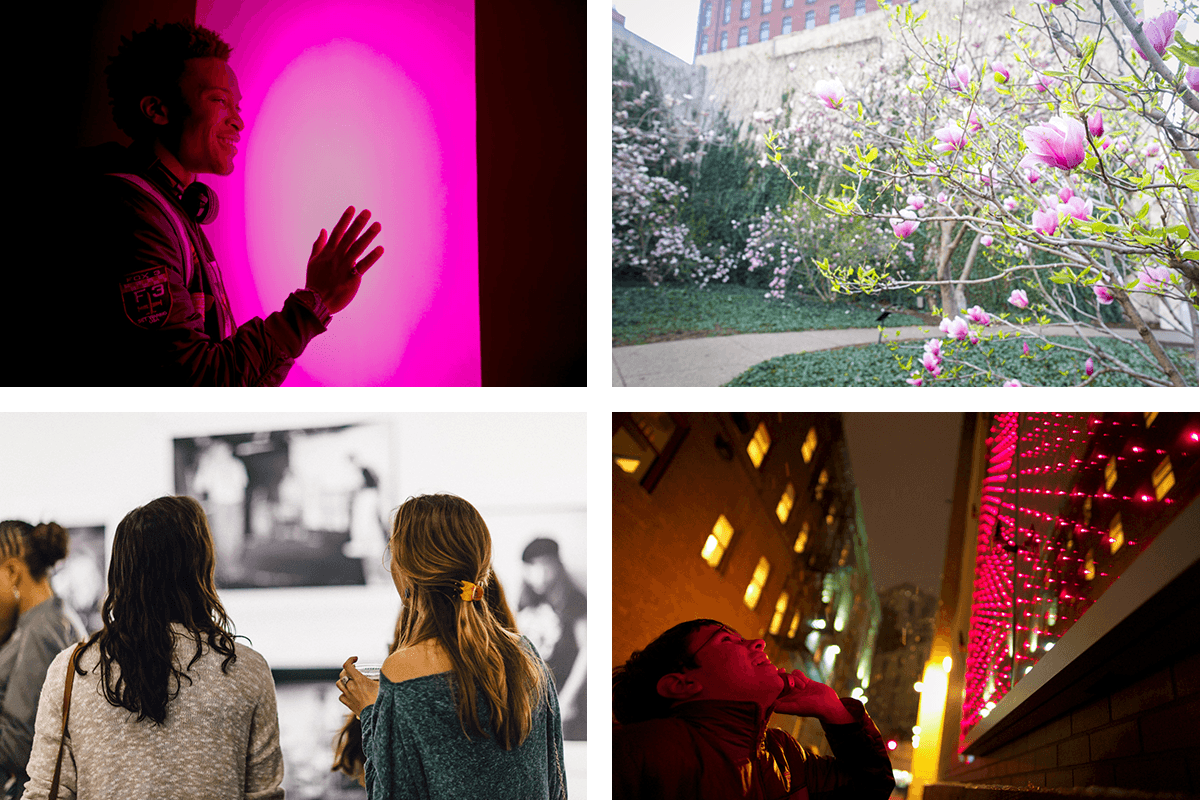 Beyond Campbell's soup cans and Brillo boxes (don't worry, we're getting there), Pittsburgh offers plenty to do for the visual arts lover. You'll find numerous galleries in the Cultural District, all with their own flair. Exhibitions change seasonally, but feature everything from local photography and paintings to international audiovisual installations. The best part? They're free and open to the public Wednesday through Sunday starting at 11 a.m.
Here in the Cultural District, art isn't confined just to indoor gallery spaces. Keep your eyes peeled for these public art installations in Downtown parklets, alleyways, and sidewalks, including our artist-designed bike racks.
Finally, you're on your way to pay homage to the great Pop artist Andy Warhol. The museum (117 Sandusky Street) is just a short walk across his namesake bridge, which connects 7th Street in Downtown Pittsburgh to the North Shore. In addition to all of Warhol's iconic pieces — Marilyn Diptych, Eight Elvises, Coca Cola, Silver Clouds — the museum showcases collections by contemporary artists that resonate with Warhol's life and work.
Souvenir/Gift Shopping

Looking for a way to remember your visit to Pittsburgh? Or how about a unique gift for that proud 'Burgher in your life? Start your search at the love, Pittsburgh outpost at 805 Liberty Avenue, which carries cute gifts sourced from Pittsburgh artists and makers. A short stroll down Strawberry Way will lead you to Steel City's vintage t-shirt shop (625 Smithfield Street), where you can find pretty much any Pittsburgh-themed tee your heart desires.
Brunch & a Matinee
We've all heard of dinner and a show, but if you've never done brunch and a matinee in Downtown Pittsburgh, you're missing out. Plan to come early — and hungry — for some of the best brunch options in the city.
Welcome the weekend by heading over to Sally Ann's (136 6th Street) or City Works (2 PPG Place) for a musical twist on your late morning meal. Sally Ann's serves up their Sunday brunches with live DJ sets and City Works offers a Rock 'n Roll brunch with music-inspired menu items.
Looking for diner-style options? Start your morning with breakfast at Pamela's, (60 21st Street), DeLuca's (2015 Penn Avenue), or Cafe Raymond (2009 Penn Avenue) in the heart of Pittsburgh's busy Strip District before continuing on Downtown to the show. (Hint: check our calendar to see what's on.)
Fitness & Recreation

There are plenty of free and low-cost ways to stay active in Downtown Pittsburgh. Walkers can take a scenic stroll along the river from the Cultural District all the way to Point State Park.
Penn Avenue is bike-friendly, with plenty of beautifully designed bike racks and corrals where you can park your ride while you're enjoying Cultural District attractions. Visiting town and don't have your own bike? No problem. You can rent one from POGOH at various locations throughout the city.
Just beyond the Cultural District, Market Square has become a hub for outdoor fitness thanks to programming from the Pittsburgh Downtown Partnership, including Yoga in the Square and Dancing in the Square.
Nightlife

Food & Libations
Looking for something to do after the curtain closes or the game is over? The Pittsburgh Cultural Trust's Backstage Bar (655 Penn Avenue) is a great place to grab a drink and enjoy live music after a show at the Benedum Center. The bar sits adjacent to another great Theater Square gastropub, Meat & Potatoes (649 Penn Avenue).
Continue down Penn Avenue and you'll find no shortage of late night hangouts where you can grab food and drink, including Sharp Edge Bistro (922 Penn Avenue), Bakersfield (940 Penn Avenue), and Sienna Mercato (942 Penn Avenue).
On the other end of the Cultural District, 6th Street is packed with great options for those coming from the Byham Theater, Heinz Hall, or a game just across the bridge at PNC Park or Acrisure Stadium. Our top recommendations are täkō (214 6th Street) and Butcher and the Rye (212 6th Street). For even more suggestions Downtown, check out the Pittsburgh Downtown Partnership's website.
Late Night Entertainment
Feeling a little spontaneous? Say yes, and…head to the Cultural District for some late night entertainment. Our resident improv comedy theater, Arcade Comedy (943 Liberty Avenue), offers a packed lineup of shows that will keep you rolling with laughter.
Want to burn some steam off on the dance floor? Head to Howl at the Moon (125 7th Street), where you'll hear all your favorite dance hits and party anthems.